Dear 2014-2015 Kindergarten Students and Parents,
Welcome to the Villages Charter School! We are already preparing and planning for the 2014-2015 school year. I am so excited to meet your boys and girls at our Kindergarten Orientation on Tuesday, August 5th in room 431. You can come anytime between 11 a.m. - 1 p.m. OR 4 p.m.-6 p.m. You do not need to attend both times. You can bring any school supplies you have with you and purchase your agenda planner for $7 at that time, too. The only school supplies that should be labeled with your name are your headphones and your rest mat. We're going to have a fantastic year together learning and exploring together in Kindergarten!

I'd also like to take this opportunity to share a little more about myself. I graduated from the University of Central Florida in 2008 and immediately began my teaching career at The Villages Charter School. I have been teaching Kindergarten for 7 wonderful years, and I love every minute of it! I have been married to my husband, Jeremy for 5 years and we have a sassy 3 year old little girl, Brooke, who is the center of both of our worlds. I enjoy spending time with my family and being crafty and creative.
I am so excited to spend the year with your little ones! See you very soon in room 431!
Love,
Mrs. Wilkinson <3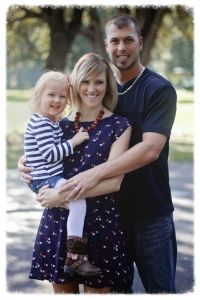 *~*My Lovely Family *~*

Contact: Christen.Wilkinson@tvcs.org
PDF documents
Alphabet Chart -
Emergency Contact Form - This will need to be filled out for Open House
Emergency Contact Form-Spanish -
Volunteer Application page 1 -
Volunteer Application page 2 -

Sunday
Monday
Tuesday
Wednesday
Thursday
Friday
Saturday