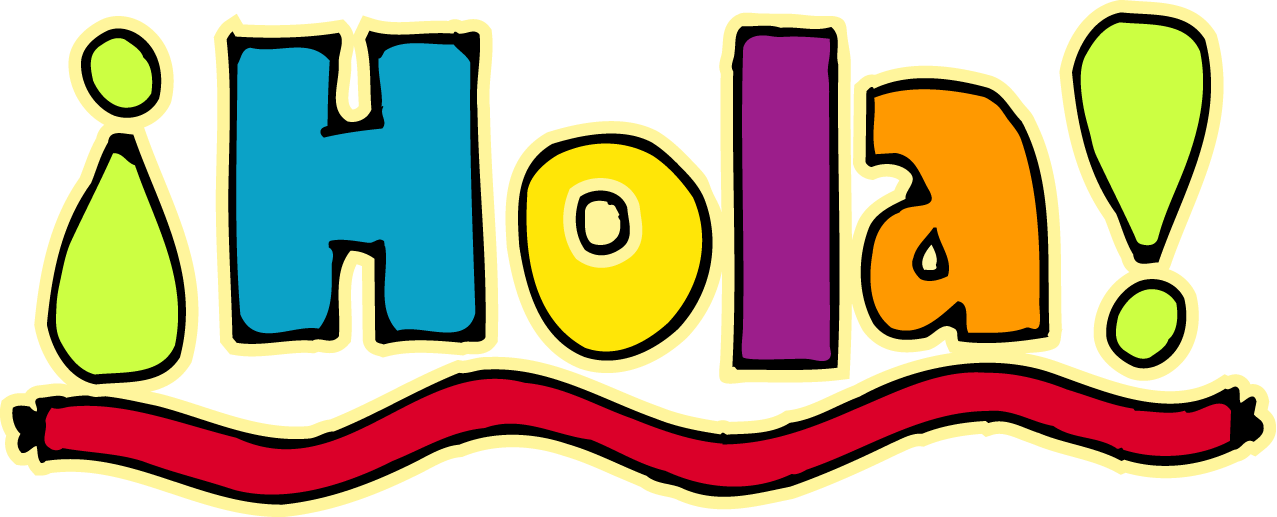 We have a very busy three weeks ahead of us as we wrap up the second quarter! (Wow! I can't believe it!) Here is a little of what will be going on in each grade level...
Kindergarten is just finishing Unit 2 ¿Cómo vivimos? (How do we live?) We are working on asking and answering the question, "¿Dónde vives?" (Where do you live?) We are using the describing words "grande" and "pequeño". We are becoming familiar with the rooms in the house. As the Christmas holiday draws near, we will be learning about the Puerto Rican singer, Jose Feliciano who wrote the song, Feliz Navidad, as well as the Mexican legend of the Christmas flower, the poinsettia.
First grade has had a lot of fun with our FOOD unit. They have learned to say what they like/don't like to eat, say what they drink and eat, and ask what they want to eat/drink. They also learned vocabulary for table place settings (plate, glass, napkin, fork...) I turned the classroom into a "restaurant" and we had fun roleplaying using our new vocabulary. We will finish up the unit with the question, "¿Cuántos hay?" (How many are there?) Students will be able to use the word "Hay..." (There are...) to tell how many there are. We will also be learning about and roleplaying the Hispanic Christmas tradition of Las posadas.
for your continued encouragement and support. It is a pleasure to teach Spanish to your child!
♥ Señora Barker
**************************************************
WHAT'S COMING HOME - Look out for these projects we have done in class that will be coming home soon. Have your child share with you what we learned.
KINDERGARTEN:
Yo vivo en... - We have learned there are many answers to the question where do you live and we practiced them (state, town, neighborhood, buildings). Students completed the phrase "I live in..." with either "a house" or "an apartment" and drew a picture of it.
La casa de Julio - We did a listening/coloring activity to become familiar with the names of the rooms in the house. Students then cut out the words and glued them under the correct room.
FIRST GRADE:
La comida mexicana - We discussed some popular mexican food and practiced using the phrase, "Me gusta/No me gusta" (I like/I don't like). Students colored and glued the written word next to the correct food item.
¿Qué quieres comer? - Students drew people dining at a restaurant eating tacos and tamales. They glued vocabulary phrases next to what each person was was ordering.
¿Cuántos hay? - Students had to count the number of table setting items and fill them in. They practiced using the vocabulary, "There are/is..." (Hay...)
****************************************************
QUIZZES COMING UP....
Kindergarten:
Numbers to 15 - (On going)
Unit 2 La casa
First grade:
Numbers to 20 (On going) **Some classes and students have goals to 10/15.
Days of the week (On going)
Months of the year (On going)
Restaurant vocabulary - Listen and circle the item that you hear. (Plate, glass, napkin, fork, spoon, knife.)
***********************************************************************************************
EXTENSION OF LEARNING: Click on a link below for extra practice. Please note that the vocabulary may be more than or slightly different than what we are learning in class.
COLORS
Try the Introduction to hear the color words and the memory game for some fun practice. First graders might like to try the multiple choice with the written words as well.http://www.spanishspanish.com/colors/color_menu.html
NUMBERS
Listen to numbers 1-20 http://www.spanishspanish.com/numbers/1_to_20.html
Number Games
http://www.spanishspanish.com/numbers/monster.html
http://www.spanishspanish.com/numbers/squares15.html
Body Parts
Body Parts
http://www.onlinefreespanish.com/aplica/lessons/race/body10.htm#.V9r-m_krK1s
http://www.onlinefreespanish.com/aplica/lessons/body/body6.htm#.V9r_uvkrK1s
**************************************************************************************************
HERE ARE A FEW WAYS TO EARN PI HOURS:
1. I am always in need for a few volunteers that are good at cutting, gluing, and coloring. I often have this type of work to send home.
2. If you have lived or are from a Spanish speaking country and would like to come in and tell us abou it...we would love it!
3. I can always use small items for Pepe's treasure box!
4. If you would like to come in and spend a few hours, half a day, or all day in the classroom with me...I usually have things to do in the classroom from sharpening pencils, putting student work up/taking it down, organizing papers, etc.
IF YOU ARE INTERESTED, PLEASE SHOOT ME AN EMAIL THAT INCLUDES YOUR NAME, YOUR CHILD'S NAME AND TEACHER, AVAILABLE DATE/S AND TIME/S.
********************************************************************************************
Contact: Misty.Barker@tvcs.org
PDF documents
-
Spanish K & 1 Behavior Plan - What are the behavior expectations and procedures?
Spanish K & 1 Grading Plan - How is my child graded in Spanish?
Special Area Newsletter - August - What is going on this month in Special Areas?
Special Areas Conduct Rubric - How does my child earn a conduct grade?
Special Areas Newsletter - September - Find out what is going on in Specials!
Special Areas Participation Rubric - How does my child earn a participation grade?
Vocabulary - Kindergarten & First Grade -

Sunday
Monday
Tuesday
Wednesday
Thursday
Friday
Saturday